WhizHip
High Pressure Coolant System

WhizCut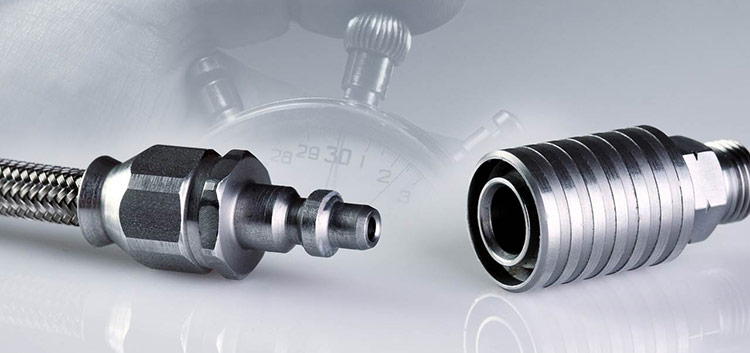 Suitable up to 200 bar
Quick change Couplings
Made of stainless steel
High quality flex-hose
Different thread adapters available
Setup completed with small distribution blocks in two versions
High Pressure Coolant Connector System
Swiss type automatic lathes running high pressure coolant systems with coolant through tool holder are getting more common. One of the challenges has been to use a distribution system which can withhold the high pressure wanted and at the same time also be flexible for setup changes or changing tool-holders.
The WhizHip distribution system is exactly this. It is developed so the user has a quick change connector and a flexible metal braided hosing. The metal braided hosing withstands the heat from hot chips shooting at the material and the system is developed to be used for up to 200 Bar (2900 PSI).
This new system can also be perfectly combined with the WhizHip and WhizIn Toolholders from WhizCut all prepared for internal high pressure coolant. With these toolholders the perfect angle for optimal coolant is given the coolant shoots directly between the forming chip and the cutting edge.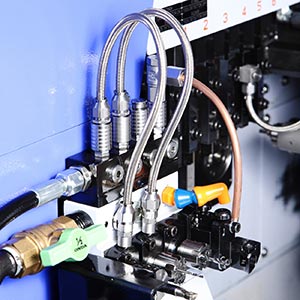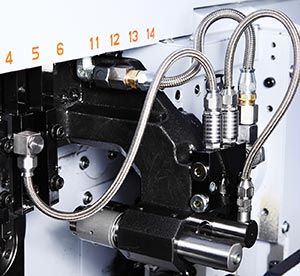 The WhizHip distribution system includes 3-, 5- or 8 way distribution blocks which can be easily mounted in the machine. It also incorporates a flexible copper nozzle which can be quickly adapted to the right position as it will not twist in the coupling.

We know all machines and applications are different so contact your local WhizCut representative to get the setup that suits your machine and application the best.