Precision Tooling for External Turning in Swiss / Sliding Head Lathes

WhizCut
External Tool holders and Inserts
Many parts that previously were made in cam type machines and traditional CNC machines are now produced in Swiss / Sliding head automatic lathes. Machining in these machines is different from machining in traditional machines and the great advantages of using Swiss turning can only be obtained with the right tooling. All WhizCut inserts are specially developed for these machines and today WhizCut has the widest range of inserts specially developed for Swiss / Sliding head automatic lathes.
Only two types of tool holders are needed to make use of the entire range of inserts. For maximum efficiency of insert tooling, WhizCut has developed the WhizFix tool holder system.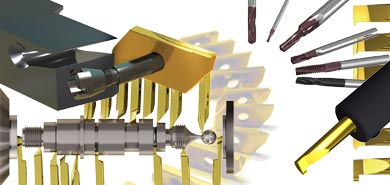 WhizFix Clamping
WhizCut has the best solution to all indexing problems in Swiss type automatics / sliding heads. By making it easy to index the insert from the opposite side of the tool holder the WhizFix patented tool holder helps the user to index the insert with the tool holder still in the machine.
Indexing or changing an insert can be done in 15 seconds without removing the tool holder from the machine.
Indexing or changing an insert will not change the setting, resulting in a much faster return to full production.
There is no risk of damaging the new cutting edge.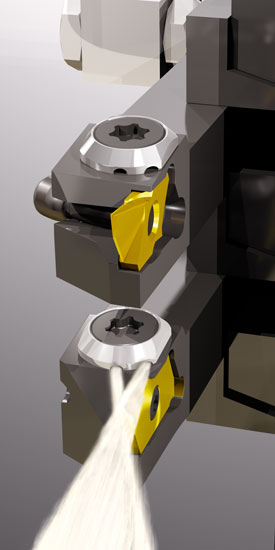 WhizHip – Coolant Through Tool holders
WhizHip is a series of tool holders with high pressure coolant for Swiss type lathes / sliding heads. The high pressure coolant is lead through the tool holder and exits at an optimal angle between the cutting edge and chip to cool the insert and to cut off the building chips. Most tool holders use standard ⅛ NPT connection to connect the coolant from the machine. By using the WhizHip tool holders, an investment in a special gang-plate is not needed.
To minimize setup time we recommend you to use the WhizFix tool holder option of the WhizHip. This way you will not need to take out the tool holder out of the machine when indexing the insert.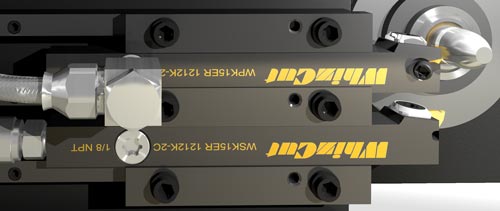 The optimal coolant point is between the chip and the cutting edge which gives improved cooling effect, improved chip control and improved tool life. The best coolant pressure varies between machine, material, RPM and feed rate. The WhizHip tool holder gives a positive effect on performance already from 10 bar. Normal use is around 75 bar, however up to 200 bar can be used.
When working in titanium, and other difficult to machine materials one will find a drastically improved performance of the insert when using high pressure coolant.
For All Types of Applications
WhizCut offers the widest range of external carbide inserts for Swiss type automatics / sliding heads on the market. Our goal is to offer great performing WhizCut tooling for all applications our customers need in their lathes. WhizCut inserts are divided into 2 different application styles; K-type for radial turning and J-type for front turning. The tool holders for radial turning and front turning have been optimized for their targeted application. As a result the user of WhizCut inserts only need two types of tool holders to cover almost all external cutting tool applications.
Design of the Perfect Cutting Tool
All WhizCut standard Inserts have sharp, fully ground cutting edges. The standard inserts are available in a 2, 6, 8, 12, 16 or 20° positive cutting rake to enable the best performance for every operation. The combination of a fully ground cutting edge and a high positive cutting rake makes the WhizCut inserts useful for most types of material and applications. All inserts are developed for maximum stability and performance, along with a very high level of chip control.

The WhizCut carbide grade allows the insert to have a very sharp but still strong edge. This also makes the inserts suitable for materials which are difficult to machine such as Titanium, stainless steel and Super Alloys.

The combination of the best grades of carbide, the most suitable geometries and very sharp cutting edges ensures the best tooling possible for Swiss type automatic / sliding head lathes.

WhizCut regularly develops special solution tooling for individual customers.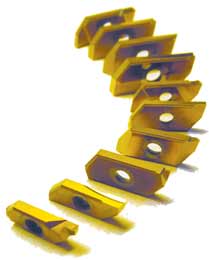 Cutting Tool Applications for CNC Swiss Automatics

J-style tooling
For axial turning (straight turning, copy turning, groove turning)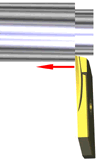 K-style tooling
For radial turning (grooving, threading, facing, parting off and back turning)




Insert Specification
Size 11 inserts are also suitable for the conventional type automatic lathes where the angle between slides is less than 55°.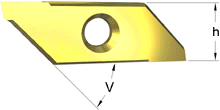 Corner alternatives

Sharp Corner
Some inserts for axial turning have a sharp corner to give minimum cutting force.

Full Radius
Some inserts have a full radius to give a good combination of light radial pressure, long tool life and a smooth surface.

Wiper
Some inserts have a narrow edge, a "wiper" parallel to the centre-line of the machine axle. This wiper produces a very smooth surface finish.

Radius and Wiper
Some inserts for axial turning have both a wiper and a radius to get both the extra too life and the smooth surface finish.
Front Turning: J-type Inserts & Tool Holders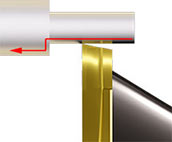 The J-type tooling setup is optimized for straight turning, copy turning, groove turninga and profile turning. The J-type inserts are available in many variations to enable the most suitable combination of cutting rakes, shapes, corner executions, chip control and grades of carbide.
The J-type insert is heavily tilted in the tool holder to give the best clearance and maximum stability in the tooling. The resulting cutting force is illustrated beside.
Radial Turning: K-type Inserts & Tool Holders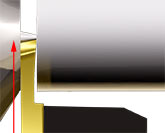 The K-type inserts are used for back turning, threading, grooving and parting off. WhizCut wide range of inserts for these applications making it possible to always get the correct insert for the application.
The K-type insert is somewhat tilted in the tool holder to give good clearance and maximum stability. The resulting cutting force is illustrated beside.