WhizIn
Precision Cutting Tools for Small Part Machining

WhizCut
WhizIn, a revolutionizing patented product developed by WhizCut, is designed to improve productivity of internal applications. It has been specially developed for small diameters in internal turning applications and is unlike anything else on the market.

The WhizIn tool holder for boring bars has the carbide boring barmounted at an angle to achieve the maximum stability for a set diameter. By grinding away less from the base of the boring bar, the boring bar becomes more stable. Other benefits are less grinding time and grinding stress and that the coolant may go through the tool holder and spray directly on to the insert cutting zone.

The WhizIn program includes a wide range of tool holders and boring bars for internal turning, grooving, threading, back turning and face grooving etc. The inserts are fully ground and made of micro grain carbide.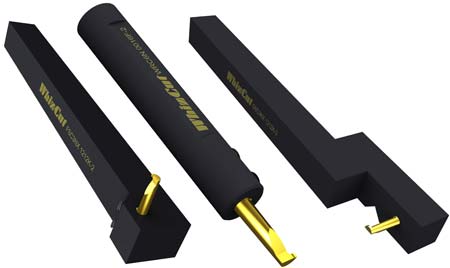 The WhizIn Boring Bar Set at an Angle
A WhizIn boring bar has up to 50% more material at the critical point compared with a conventional boring bar. The angle that the boring bar is clamped into the toolholder means the boring bar grows thicker with the length of the bar. This leads to a more stable tool.
The WhizIn boring bar is designed in a way that minimal grinding is required. This results in a less expensive tool but also a tool that has less grinding stress. With lesser grinding stress the tooling performance is more consistent and stronger than a conventional boring bar.
We Clamp it Crooked,
You get a Stronger Tool and You Pay Less!
The WhizIn Carbide Boring Bars
Better tool stability
Improved surface finish
Increased tool life
Chip control down to the smallest dimensions
The WhizIn Tool Holder
Through coolant
Double screws for security and stability
Special tool holder designs for small part machining
Same holder for left and right hand boring bars
Four Cutting Edges with Maximum Stability
The WhizThread inserts and toolholders are designed to give the insert the most stable position. The resulting clamping force is diagonally through the insert and toolholder. This forces the insert back into the toolholder's pocket and maximizes support. This unique system with its solid clamping will produce a better product and have longer tool life than any other tooling setup.
The tool holders are very suitable for Swiss Type Automatic Lathes. Tool holders for threading inserts are available from 8 mm to 1 inch square shafts.