WhizThrill
Solid Carbide Thread Mills

WhizCut
The WhizThrill deburring solid carbide thread mills take thread milling to the next level. Users of thread taps and thread mills have for years been battling problems of getting burrs when threading holes. A WhizThrill together with the WhizCut software solves this in one single move giving a perfect result.
WhizThrill is not a traditional style solid carbide thread mill. Many of the different styles have unique geometries which are very favourable for the tool user. Some of the advantages are:
The WhizThrill can deburr the thread entrance without having to make a chamfer
Range from M1-M42, 0,4-4 mm pitch.
Coolant through available, both straight and radial.
Micro grain Carbide
Special TiAlCN PVD Coating for best surface finish and maximum tool life for regular Thread Mills and an AlCrN coating for extra edge sharpness for micro Thread Mills.
Close tolerances on thread profile
Easy to use programming guide for the most effective programming
Double Deburr available. Contact a WhizCut distributor for a quote.
Specials such as thread mills for bone plates can be produced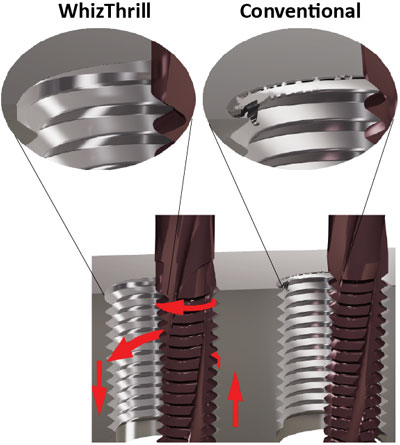 WhizThrill Double Deburr Thead Mills
Are you thread milling a through hole and getting problems with burrs on both sides?
WhizCut produces double deburring thread mills, where both sides are deburred in the normal thread milling process. Please note that this is most likely a special as we need to know the exact length of the thread.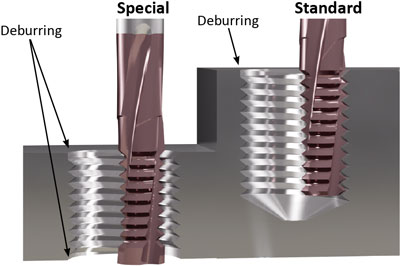 WhizThrill Double Deburr Specs
Ordering the right double deburr thread mill is easy. All that is needed is the diameter, pitch, and the thickness of the plate to be thread milled.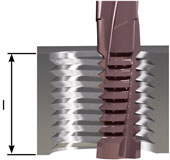 WhizThrill Specials
If a measurement is needed that you cannot find in our catalogue, we can arrange cutting a standard thread mill to the correct length for a small fee. We can also grind special forms such as tapered thred mills for bone plates.


Thread Mill Software Program
Thread Milling is not a difficult operation to do when one has the right support. For this reason WhizCut offers a program, free of charge to all customers, that will help program the CNC machine. The WhizThrill software aid is a very user friendly program that recommends the programming of the CNC machine when using WhizThrill solid carbide thread mills. The program is updated regularly, so make sure to have the latest version. Get the latest version free of charge from your local distributor or by contacting us through the Thread Mill Software request form.