WhizThread
Precision Thread Turning Tools for CNC Swiss Automatics

WhizCut
Threading Inserts with Four Very Sharp Cutting Edges
WhizCut has been looking for a long time to improve the industry standard lay down thread turning inserts with three cutting edges. As specialists of small part machining we have developed a stand up insert. This enables us to design a threading insert with four cutting edges with increased performance. We have developed the threading inserts in geometries mostly common in Swiss type automatic lathes and use a carbide grade which has shown great performance in these sizes.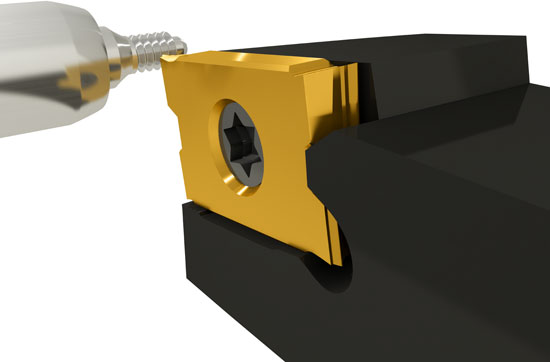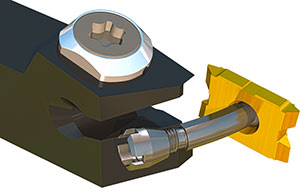 Thread Turning with WhizFix
The WhizThread tooling system can take use of the world renowned WhizFix tool holder system, which enables the operator to index the insert in the machine without taking out the tool holder.
Thread Turning with High Pressure Coolant
Toolholders are also available in a WhizHip version with high pressure coolant through. With WhizHip it is possible to run high pressure coolant through the tool holder. The coolant is automatically aimed at the insert at a perfect angle for optimal cooling of the insert cutting edge and greater control of the developing chips. The WhizHip toolholders use a 1/8" NPT connection to connect the coolant from the machine. There is therefore no need to invest in any special gang plate.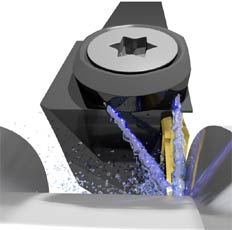 Four Cutting Edges with Maximum Stability
The WhizThread inserts and toolholders are designed to give the insert the most stable position. The resulting clamping force is diagonally through the insert and toolholder. This forces the insert back into the toolholder's pocket and maximizes support. This unique system with its solid clamping will produce a better product and have longer tool life than any other tooling setup.
The tool holders are very suitable for Swiss Type Automatic Lathes. Tool holders for threading inserts are available from 8 mm to 1 inch square shafts.
Threading Insert Geometry
All WhizThread thread turning inserts have four sharp, fully ground cutting edges. The threading turning inserts all have a positive cutting rake ensuring the best chip control possible when threading. The combination of a high positive cutting rake and a ground cutting edge makes the WhizThread inserts useful for most types of material and applications. All inserts are developed for maximum stability and performance.

The carbide allows the insert to have a very sharp, but still strong edge. This makes the threading inserts suitable for materials which are difficult to machine, such as Titanium and Super Alloys.
The combination of the best grades of carbide, the most suitable geometries and sharp cutting edges will ensure you getting the best tooling possible for your threading applications.

Special Threading Geometries
Our experience in the marketplace has given us a wide knowledge of all special geometries that are needed. Therefore we are very happy to make special forms, since we are a very flexible company and our production is set up for us to make special inserts easily. As this is a new release we will be designing many more different standard threading inserts. Contact your local distributor to make sure we update with your specific geometries first.