WhizCut Carbide Grades

WhizCut Carbide Inserts
WhizCut inserts and tooling are specially developed to suit the cutting conditions in CNC Swiss automatics. The WhizCut precision carbide inserts are made of carbide which results in maximum strength when looking at hardness and wear resistance. All cutting edges are fully ground and exceptionally sharp. This, together with the latest types of coating and suitable cutting geometries, gives WhizCut inserts an excellent tool life. For best performance and tool life it is recommended to follow the recommended cutting data for swiss.
Grades of Carbide
WhizCut inserts are made of an extra fine grain carbide with hardness over 1750 Hv. The WhizCut carbide is an extremely hard grade with a high tensile strength and even grain size. Compared to conventional carbides this carbide is very wear resistant which drastically extends tool life.

WhizCut round tools are made of a sub-micron grain carbide with a hardness over 1610 Hv and a medium cobalt content. The grain size is remarkably even, resulting in a supreme tensile strength.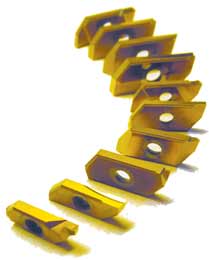 Stock Standard Carbide Grades

| | |
| --- | --- |
| 8M, 9M, 10M | Uncoated grade covering ISO groups K10-K20 and M10-M20. |
| C8, 9, 10 | Coated grade covering ISO groups K05-K20, M05-M20 and P05-P10. This not a stock standard. Replaced by F8 and B8. |
| F8, 9, 10 | New improved AlTiN coated grade with high heat and thermal shock resistance. Great for machining stainless steel. |
| B8, 9, 10 | AlCrN coating with extra edge sharpness. A versatile grade which can be used for most materials. Extra benefits in titanium and exotic materials. |
| NF8, 9, 10 | New improved slightly honed AlTiN coated grade with high heat and thermal shock resistance. Great for machining steel and large stainless steel parts. |
| ND8, 9, 10 | AlCrN coated grade with a slightly honed cutting edge. Perfect for all steels, and tough exotics and larger parts. |
| P9, P10 | An extra smooth AlTiN coating very suitable for all drill applications as well as boring in sticky materials. |